Discover more from FXBG Advance
Putting Readers First
Over 1,000 subscribers
---
A Hero of Two Worlds: The Marquis de Lafayette in the Age of Revolution
By Mike Duncan
Published by Public Affairs (August 24, 2021), Paperback - $18.99, 512 pages
Paperback edition
Kindle edition
Reviewed by Martin Davis and Craig Vasey
History - and in particular biography - in the hands of amateur historians can be a dangerous thing. More given to adoration than analysis (see Eric Metaxis' fatally flawed biography of Dietrich Bonhoeffer, for example); pablum than probing (see Carl Sandburg's study of Lincoln), these want-to-be historians usually lack the skills or breadth of understanding to grasp the subjects and the periods that they write about.
Every now and again, however, a writer rises from the LeBrea Tar Pits that ensnare so many amateur historians - biography and the Great Man model of history - and does the world a favor by humanizing and making understandable the characters who fill our imaginations.
Such is the case with Mike Duncan. A fishmonger from Seattle turned historian, Duncan approaches one of America's least-understood characters, the Marquis de Lafayette, and introduces him both as a player in the American Revolution, and the revolutions of Europe.
Duncan knows who and what he is. A gifted writer and a marvelous storyteller who loves history. He doesn't try to break ground or offer analysis that could rival Howard Zinn or Henri Pirenne. Rather, he lets the characters speak for themselves.
Readers will breeze through the book's 500-plus pages, while learning that fate does favor some over others. Lafayette's rise to wealth was a trifecta of family deaths, fortunate moves, and being introduced to just the right girl at the right time.
From the battlefields of America, to his conflicts with Napoleon, Duncan breathes life into Lafayette, and gives Americans a better understanding of just how connected the world is. And in so doing, he reminds us - whether consciously or not - that America is not so much a Shining City on a Hill, as it's a stone that's been polished to a high gloss by the thoughts and hands of people the world over.
Though this work is now two years old, it's an appropriate time to read it. For next year, the city will be celebrating the 200th anniversary of Lafayette's visit to Fredericksburg.
To commemorate and celebrate this visit in 1824, a committee of citizens has been at work for several months now, basing their planning on a pamphlet from 1899 that details Lafayette's time in the city. The pamphlet, apparently, was authored by an ancestor of Mayor Mary Catherine Greenlaw. 
Led by Lisa and David Durham, the committee includes representatives from the Fredericksburg Area Museum, the George Washington Foundation, the Fredericksburg Sister City Association, the Masonic Lodge, St George's Church, HFFI, the National Park Service, Mary Washington House, and UMW Museums. 
FAM will open an exhibit on Lafayette in March 2024, and will sponsor the first in a series of monthly lectures about Lafayette that will run through the year.  During the weekend of November 23-24, 2024, with support from the American Friends of Lafayette – which is organizing a nation-wide 13-month long tour of the 24 states Lafayette visited – Fredericksburg will host a re-enactment of Lafayette's arrival in the city (with military escort), his welcome at Market Square and the old City Hall, a Ball in his honor (at Fredericksburg Square), and his visits to St. George's and to the Masonic Lodge.
All events (except the Ball) will be free and open to the public, and information about them will be posted at FXBGadvance.com.   
---
OBIT/COMMENTARY: The World Still Needs Jimmy Buffett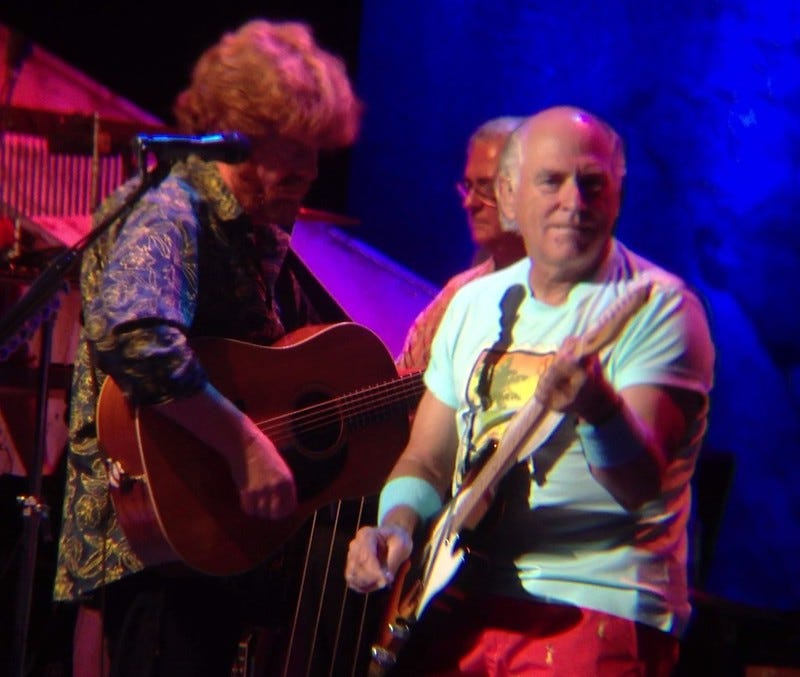 by Martin Davis
FOUNDER AND EDITOR
Jimmy Buffett - who passed away Thursday - made us laugh at ourselves and at others. And he no doubt triggered the moralists in the world.
Yes - we're talking about the self-righteous zealots of Spotsylvania County and across the country who find things like human sexuality dirty, drinking an abomination, and religious satire an unforgiveable sin.
In the triggering, however, Buffett taught us all to embrace being human, with all the beauty and the pain and the shared responsibilities that come with that.
Trigger alert: what follows is sure to offend the aforementioned moralists, so do yourself a favor and stop reading now. For the rest of you, "Rock on."
When the likes of Jerry Falwell and Ralph Reed were damning us all to hell because we - gasp - didn't agree with their view of life, Buffett was crooning about Fruitcakes. (Warning - the word "naked" appears in the video if you click the link. Oh my. RUN FOR THE HILLS.)
Fruitcakes in the kitchen, fruitcakes on the street
Strutting naked through the crosswalk in the middle of the week
Half-baked cookies in the oven, half-baked people on the bus
There's a little bit of fruitcake in every one of us.
And for about five minutes, we could all laugh together at just how crazy we really are. Consider his take on religion in "Fruitcakes." In my nearly 20 years of studying theology and philosophy, I doubt I read anyone who summed it up better than Buffett in a few simple lines.
Where's the church, who took the steeple?
Religion's in the hands of some crazy-ass people
Television preachers with bad hair and dimples
The god's honest truth is it's not that simple
It's the Buddhist in you, it's the pagan in me
It's the Muslim in him, she's Catholic ain't she
It's the born-again look, it's the WASP and the Jew
Tell me what's going on, I ain't got a clue.
For those of us around during the 80s, his picking on religious zealotry was a much-needed breath of fresh air. For the majority of us who don't attend a church or affiliate with a religious tradition, Buffett made living among those who did easier to bear.
At the end of the day, he reminds us, no one really knows. Admitting one doesn't have a clue is just fine - and helps us all get along just a little bit better.
It also reminded us that we appear as crazy to the religious as they appear to us.
Perspective is a good thing.
And then there's the song he sang at every concert that was sure to offend everyone - Why don't we get drunk, and screw. You don't have to be a drinker or a hedonist to appreciate the sentiment.
Sometimes, you just have to let go and enjoy being human.
If Buffett could affront and offend, however, he could also touch our souls.
"Come Monday" is a meditation on friendship, young love, and the sense of place that bonds people together around a city like San Francisco - where I lived in the 80s and so resonate with the memories this song still stirs.
Headed up to San Francisco for the Labor Day weekend show
I got my hushpuppies on I guess I never was meant for glitter rock and roll
And honey I didn't know, that I'd be missing you so
Come Monday, it'll be alright
Come Monday, I'll be holding you tight
I spent four lonely days in the brown LA haze
And I just want you back by side.
His rendition of Steve Goodman's "Go, Cubs, Go" is a love song to America's loveable losers, and invites Chicagoans and non-Chicagoans alike to get a taste of the team and the game that drives the City of Big Shoulders every summer.
But his greatest song is the memory of love and love lost, and haunted memories - "He Went to Paris."
Then he went to England
Played the piano
And married an actress named Kim
They had a fine life, she was a good wife
And bore him young son named Jim
And all of the answers, and all the questions
He locked in his attic one day
'Cause he liked the quiet
Clean country livin' and
Twenty more years slipped away

Well, the war took his baby
Bombs killed his lady
And left him with only one eye
His body was battered
His whole world was shattered
And all he could do was just cry
While the tears were falling and he was recalling
Answers he'd never found
So he hopped on a freighter, skidded the ocean
And left England without a sound
Few people have ever articulated the complexities and banalities of life in a way that spoke to everyone better than did Jimmy Buffett.
In a world where shutting the door on the human experience is the driving force of the conservative Republican Party - no books but those that pass the purity test, no ideas but those that pass the doesn't-offend-the-white-people test, and no experiences but those that pass the would-Jesus-approve-if-he-were-standing-there test - the loss of Jimmy Buffett represents more than the passing of a life well-lived.
We've lost a voice of sanity and humanity that helps us all see the world with a bit more empathy, and laughter.
---
Correction
In Saturday's edition we spelled Deputy Deuntay Diggs' first name incorrectly. The Advance regrets the error.
---
Help Support Local Journalism
The FXBG Advance is off and running, but we can't do this without your help. You can support local journalism here in Fredericksburg by donating $8 a month. Your dollars will go toward hiring journalists so that we can broaden our reach and strengthen our coverage.
The content is now, and will continue to be, free.
Help us bring aboard the journalists who will elevate our coverage and strengthen the community we all share.
Consider joining for $8 monthly or $80 yearly. A $200 donation makes you a Sustaining Member, while a $500 donation makes you a Founding Member.
Thank you for reading and supporting FXBG Advance.
-Martin Davis, Editor
F2S is a reader-supported publication. To receive new posts and support my work, consider becoming a free or paid subscriber.